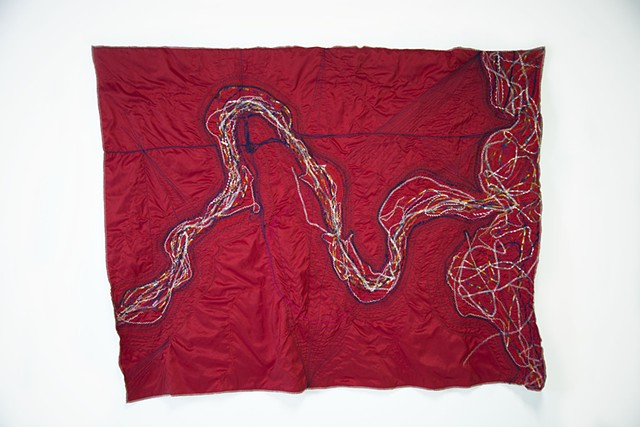 Cehr-cah Dehl Reehoh
Embroidered Tapestry Silk taffeta, rayon threads, canvas
51.8 x 66.99 in. (131,57 x 170,15 cm)
2018

-Español abajo-
Being a Colombian artist who lives in USA has led me to using mapping as a fundamental process in my work. In this piece I use a map of Sheboygan, Wisconsin, focusing on the Sheboygan River. The maps that I use reference locations that I feel a strong connection to or am part of. This deep connection to locations influences my Abstracts Maps series, in which I represent cities, rivers, and landscapes that speak to our need to hold on to the memories associated with moments and people we cling to in a attempt to remember our legacy.


-Español abajo-
Cehr-cah Dehl Reehoh / Cerca del río
Seda taffeta, hilos rayon, lienzo
130 cms x 170 cms
2018
Ser una artista colombiana residente en Estados Unidos me ha guiado a utilizar el mapeo como un proceso fundamental en mi trabajo. En esta pieza utilice un mapa de Sheboygan, Wisconsin, enfocandome en el río Sheboygan.
Los mapas que uso hacen referencia a los lugares con los que tengo una conexión profunda, o aquellos a con los que siento que soy parte de ellos. Esta conexión profunda es una gran influencia en la serie de mi obra Abstracts Maps. En esta represento ciudades, ríos y paisajes que se asocian con la necesidad de guardar las memorias asociadas con momentos y personas. Esas memorias a las que nos aferramos fuertemente en un intento de recordar nuestro legado.